At the 11th hour of the 11th Day of the 11th Month in 1918, World War One was officially declared to be over.  Originally known as Armistice Day, November 11th is celebrated in America as Veterans Day—a day to honor all American veterans, living and dead.
We will be closed Friday, November 10th, 2017 in honor of Veterans Day.  If you need access to your account that day, Teller 24e, the Mobile Branch, the ATM network and Audio Account Access will all be working.  You can find a no-fee or reduced-fee ATM near you by CLICKING HERE. The Seven Hills branch will open Saturday, November 11 for regular business hours, and the main office in Brooklyn Heights will re-open Monday, November 13 for regular business hours.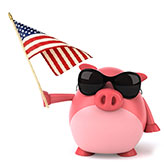 Thank you for being a Taleris Member.  If you are a veteran, thank you for your service.  Welcome home.