High Interest Debt weighing you down?
For a limited time, we've got a debt-consolidation loan with rates that start at
4.99%
If you have high interest debt—like for example, your credit cards—we can help. We've got a personal loan designed to help you consolidate your high interest debt into one lower interest loan with a one lower payment.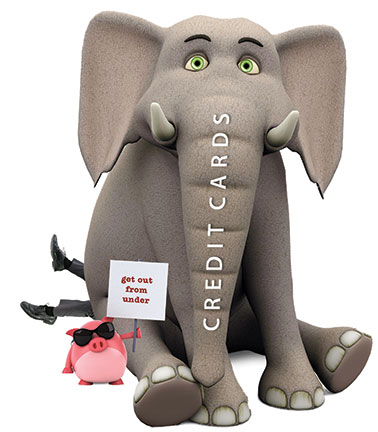 Rates for this loan start at 4.99%
If you have credit card debt with interest rates of 15% to 20% or even higher, you may be able to substantially lower your monthly payments and ease pressure on your budget.
Don't need to consolidate but need some extra money for another reason? This loan is for you. To apply, or for information, call us at 800.828.6446 or CLICK HERE.
---
Rates and terms will be based upon applicants credit history, with the floor being 4.99%. All approved/funded loans will include a $50 promotional loan processing fee. No loan rate discounts are available for this promotion. All other standard underwriting criteria apply. Other restrictions may apply. Limited time offer. Taleris Credit Union, Inc. reserves the right to terminate this promotional offer at any time. Loan approval is not guaranteed.
International Credit Union Day
This year, we are celebrating International Credit Union Day on Friday, October 20. If you're in the vicinity of either of our branches that day, stop by and say hello. We'll have snacks and something to drink at both locations and we'd love to see you there.
Board of Directors Elections 2018
The Taleris Credit Union Nominating Committee has announced that there are a total of six (6) candidates running for four (4) open positions on the 2018 Board of Directors. Three (3) of the candidates are incumbent (current) board members, and three (3) are non-incumbent.
The incumbent candidates are: Mary Jane Camarato, Louis Vocaire-Tramposch and Christian Brandetsas. The three non-incumbent candidates are: Benjamin Carnahan, Andrew Netzel and Stephen Franks.
No other candidates have submitted an application for candidacy at this time.
To review bios of all six candidates, CLICK HERE.
Any individuals who further desire to be considered for candidacy must submit a Petition for Nomination. To obtain the petition, please call 800.828.6446 ext. 3233 or email volunteer@taleriscu.org. Once completed, mail the form to the TCU Nominating Committee • 1250 E Granger Rd • Cleveland, Ohio 44131 by November 11, 2017. You may also drop off the petition at the same address.
Equifax Breach
What you should know
According to the Federal Trade Commission "If you have a credit report, there's a good chance that you're one of the 143 million American consumers whose sensitive personal information was exposed in a data breach at Equifax, one of the nation's three major credit reporting agencies.
Here are the facts, according to Equifax. The breach lasted from mid-May through July. The hackers accessed people's names, Social Security numbers, birth dates, addresses and, in some instances, driver's license numbers. They also stole credit card numbers for about 209,000 people and dispute documents with personal identifying information for about 182,000 people. And they grabbed personal information of people in the UK and Canada too."
There are things that you can do to help protect your identity and your accounts. We have been posting on our blog about the breach, and some ways for you to protect yourself and your accounts. Look for articles here on the blog for more.  They are listed under the tag: breach.
Free Lunch and Learn Programs
We'll bring the pizza
Do you have more than ten (10) employees that are interested in Debt Reduction or Understanding Your Credit Score? And, we've recently added Financial FAQ: 25 Commonly Asked Questions on Savings, Investments, Credit & More. We offer these free informational seminars to your employees with no sales pitch. For more information, CLICK HERE .
Susan Soltesz
Someone we're proud of
Our Susan has been growing her hair for years. Why? So that she could cut it and donate it to be made into a wig for people suffering from cancer or children suffering from alopecia.
By the way, it's the second time she's donated. Susan has donated to Locks of Love and to Pantene Beautiful Lengths, both organizations focused on helping victims of disease restore some normalcy to their lives.  We couldn't be prouder.