Auto Loan with No Payments for 90 Days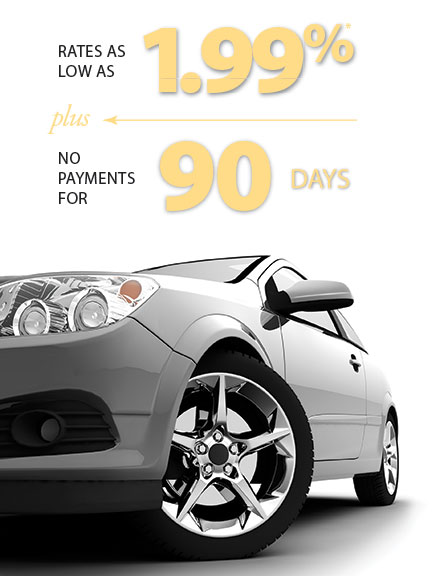 For A Limited Time
We've got an auto loan with Rates as low as 1.99%* and NO PAYMENTS FOR 90 DAYS. This special is good on Cars, Trucks, Suvs and Vans. Thinking about a motorcycle or RV? Good news. We have great rates on bikes and RVs…and boats and jetskis…AND they also qualify for the 90 Days with no payments.
Get Pre-Qualified
GET PRE-APPROVED AND LOCK IN YOUR RATE NOW — BEFORE YOU HEAD TO THE DEALER. Nothing will get you a better deal at the dealership than having your financing in place before you walk in. With our LOW RATES and a PRE-APPROVED LOAN, you could save hundreds over the life of your loan. Interested? Call the Loan Department today at 800.828.6446 or CLICK HERE for more information or to apply online.
*Standard underwriting criteria, terms and conditions apply. A $50.00 loan processing fee will apply. Other restrictions may apply. Limited time offer. Taleris Credit Union reserves the right to terminate this promotional offer at any time. Loan approval is not guaranteed. The Annual Percentage Rate (APR) for the rate shown is 2.420% based on a $10,000 loan with a 23-month term and payments of $445.02. Your APR, term, and payment will be determined based on your application and credit information.
Who can join Taleris…?
We get questioned all the time about who can join Taleris. Who is eligible? Can my family join? Truth is, there are lots of ways to join!
Family: any member of your immediate family can join. That means spouse, sibling, children, parent, grandparent, or grandchild.
Location: If you, or someone you know, lives, works, worships or attends school in Cuyahoga, Medina, Lorain, Lake, Summit, Stark, Geauga or Portage County.
Employer: If you, or someone you know, works for any of our Corporate Partners. For the complete list, CLICK HERE.
Association: Even if you don't meet any of those conditions, you can still join Taleris by belonging to, or joining one of two associations affiliated with us:
 The Public Animal Welfare Society (PAWS) or,
 The Seven Hills Historical Society.
NOTE: You may join either of these associations at the time of applying for Taleris Membership. The membership fee for either association is $5.00 Need more information? Call us at 800.828.6446 or CLICK HERE.