Three ways to save on your car loan
NEW, USED OR REFINANCE WITH NO PAYMENTS FOR 90 DAYS*
Looking for a new vehicle? How about one that's pre-owned? Maybe you like the one you've got, but think you're paying too much every month. GOOD NEWS.
For a limited time, we've got rates as low as 1.99% on NEW VEHICLES, 2.24% on USED VEHICLES and 2.24% on REFINANCING a vehicle you already own.
Plus, you'll get 90 DAYS WITH NO PAYMENTS regardless of what you finance.
CLICK HERE or call 800.828.6446 and ask for a loan representative for more information or to apply.
Taleris Expands Membership Eligibility
Taleris has received approval to extend membership to anyone living, working, attending school or worshiping in Stark, Portage and Geauga Counties.
With that approval, Taleris now offers membership eligibility in Cuyahoga, Lorain, Lake, Summit, Medina, Stark, Portage and Geauga Counties.
For more information on membership eligibility, CLICK HERE.
Smart Option Student Loan
Taleris has partnered with Sallie Mae to offer a smarter way to pay for college. With competitive interest rates, zero
application fees, and an easy application process, the SMART OPTION STUDENT LOAN pays for college expenses not covered by scholarships, grants or federal loans. Since 1972, Sallie Mae has helped more than 30 million students and their parents pay for college. For more information, or to apply, CLICK HERE.
Win An Echo Dot
Our online Member Survey is your ticket to be entered to win a new Amazon Echo Dot!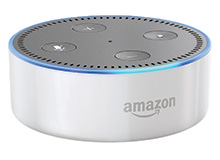 • Echo Dot (2nd Generation) is a hands-free, voice-controlled device that uses Alexa to play music, control smart home devices, provide information, read the news, set alarms, and more
• Connects to speakers or headphones through Bluetooth or 3.5 mm stereo cable to play music from Amazon Music, Spotify, Pandora, iHeartRadio, and TuneIn
• Hears you from across the room with 7 far-field microphones for hands-free control, even in noisy environments or while playing music
We appreciate all of your feedback. To fill out the quick survey, CLICK HERE.
LOTS OF DISCOUNTS FOR YOU AND YOUR FAMILY!
New year and new ways to save… so why not start saving $$$ on all the fun things to do around town? Because you are a Taleris member, you are eligible for discounts on hotels, restaurants, amusement parks, flowers, and much more through the Best Benefits Club.
To take advantage of all the discounts available, CLICK HERE. You will have to register and create a log on and password because Best Benefits Club updated their website and security. Just click on LOGIN and follow the prompts to register. Use tcu0913 as the activation code.
Life, Auto, Home, and Health Insurance
In keeping with our promise to offer our members every opportunity to save money in this challenging economy, Taleris has been offering member discounts on Home, Auto and Life insurance through our partner, TruStage Insurance.
Going forward, we're offering Heath Insurance coverage to that list as well. For more information, CLICK HERE.
Join the Taleris Advisory Board
Advisory Board Members assist the Board of Directors and Management Team in a consultative capacity. They help to set the overall direction, strategy, and policies for Taleris with the primary interest of the membership at the forefront.
If you have a few hours a month to dedicate to help shape the direction of Taleris Credit Union, CLICK HERE.
Join Online in 10 Minutes!
With our new online membership application, you can join from your computer, your tablet or your smart phone. You can also select, and fund, your new accounts in the process. It's really easy and only takes about 10 minutes. For information, CLICK HERE.
*Promotional terms do not apply to loans currently financed with TCU. Standard underwriting criteria, terms and conditions apply.  Rate will not be below the floor rate of 1.99% .  A $50.00 loan processing  fee will apply. Other restrictions may apply. Limited time offer.  Taleris Credit Union reserves the right to terminate this promotional offer at any time. Loan approval is not guaranteed.