The Joseph W. Coleman Memorial Scholarship Awards
Taleris Credit Union believes in investing in the future education of its members. The Joseph W. Coleman Memorial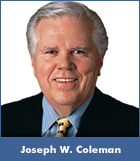 Scholarship Award (JWCMSA) was established to recognize, honor, and reward students who have demonstrated excellence in various areas that include, as well as go beyond academic performance. The award provides financial assistance to members to continue their education and training beyond high school and to pursue their dreams.
These scholarships were named in honor of Joseph W. Coleman, distinguished long-time Taleris Board of Directors Chairman, who passed away in 2010.
Applicant Requirements
In order to be considered for a scholarship award, applicants must be a member of Taleris Credit Union. If an applicant is under the age of 18, the applicant can apply but his or her parent or guardian will need to become a member of Taleris Credit Union. If you are currently not a Taleris Member, joining Taleris is easy.  Anyone who lives, works, worships or goes to school in Cuyahoga or Medina county can join.
Just CLICK HERE to to find a membership application. Select the type of application you need, and download.  Fill it out and send in the required documentation along with a $5.00 deposit and you are ready to go. If you live in the Cleveland, Ohio area, you can expedite the process and just stop in to one of our branches to open your membership and fill out your scholarship application at the same time!
Applications for the 2017 Joseph W. Coleman Memorial Scholarship Awards
For complete rules and instructions, CLICK HERE.
2016 Taleris Scholarship Winners
We are proud to announce the winners of the 2016 Joseph W. Coleman Memorial Scholarship Awards. They are:  Nicholas Kovesdi and Tyler Courtright.
Both of this year's winners were chosen by the Taleris Scholarship Committee based upon criteria such as academic achievement, school and extra curricular activities, community service and citizenship. Both Nicholas and Tyler receive a $1,000 Scholarship to attend the college of their choice.
Greater Cleveland Credit Union Outreach Alliance 2017 Scholarship Application
The Greater Cleveland CU Outreach Alliance will be awarding five scholarships: (1) in the amount of $3,000, (1) in the amount of $2,000, (2) in the amount of $1,500 each, and (1) in the amount of $1,000. A $500 scholarship from NoteWorthy Federal Credit Union, awarded on behalf of Mrs. Kathy Klimko, will also be granted. Entrants will be judged on their ability to answer the essay question in a compelling and logical manner as well as their use of grammar. Notification of award will take place the week of April 17, 2017.
The application is in PDF format, and can be accessed by CLICKING HERE.
Please return your completed application to: Regina Kelley, c/o Cleveland Police Credit Union, Inc., 2301 Payne Avenue, Cleveland, OH 44114 by MARCH 15, 2017. This application may be reproduced.
 Ohio Credit Union Foundation Video Scholarship

The Ohio Credit Union Foundation (OCUF) is inviting Ohio credit union members pursuing an undergraduate degree to apply for a $5,000 scholarship by creating a 60-second to 2½-minute video answering the question:
"How does being a member of a not-for-profit credit union differ from traditional for-profit financial institutions?"
The Video Scholarship contest begins Wednesday, Feb. 1, 2017, and ends Sunday, April 30, 2017. All video entries must be submitted by Sunday, April 30, 2017, at 11:59:59 p.m. EST. All videos and personal information must be submitted on the Foundation's website: www.OhioCreditUnionFoundation.org
For full details, including rules and eligibility, CLICK HERE.